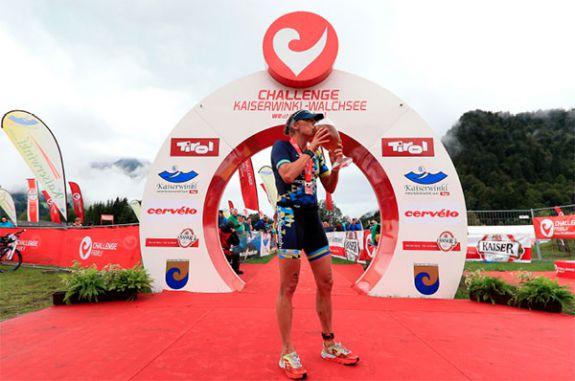 Catching up with Laura Siddal
Laura Siddal sent over an update on her recent travels and we can certainly agree that she's had a season to be proud of.
Here's what Laura had to say:
" It's been no secret that I've been chasing summer here in Europe, so it was a little bit of a shock to travel to Austria for Challenge Walchsee to have a weekend of rain and cloud! It was good timing though, coming off a few weeks break back in the UK, to then a few weeks back into training in Girona, to then head to Challenge Walchsee for a half distance race and hit out. As Challenge Family European Ambassador I've loved racing in Europe this summer. Challenge put on some great races in amazing locations, and Challenge Walchsee is certainly one of these, set in the beautiful Austrian countryside.
It was to be a challenge bike and run course around the local towns, with some technical descents and good climbs on the bike. Unfortunately, the weather had an impact on the race, with the cold temperatures and rain, resulting in the swim being shortened to 1.5km, and the bike to 68km, but the run stayed the same at 21.1km. It was a shame that the bike had to be shortened as the full course would have been spectacular but it was the right decision on the day for the safety of the athletes. Regardless of the weather, we come to race and we deal with whatever is thrown at us. Once on that start line it's the same for everyone, and you manage and make judgments according to the conditions and how the race unfolds. I was therefore very happy to take my third win of the season, and my ninth podium out of eleven starts for 2017. I was particularly happy with my run performance. Coming off the bike in third, I felt really strong from the start and was able to move into the lead just before half way and continued to stretch head winning by over three minutes in the end, with the fastest run split by several minutes too. I felt strong throughout the run, so a great confidence booster as I head into the next training block and the later part of the 2017 season.
At the time of writing this I'm currently ranked #2 on the Challenge Family European Series, just 35 points off the lead. It was always a plan to race the series, and I have decided that I want to give myself the best chance to win or to finish as high a rank as possible. For this reason, I'm excited to announce that I will be heading back to Europe after the Ironman World Championships in Kona, to race Challenge Forte Village Sardinia in Italy. It looks like another stunning location and I'm looking forward to battling it out with the other women for the top spot. It's now head down and focus on the next few weeks of training as I head towards the Ironman World Championships in Kona. I shall remain in Girona, Spain for this block until the end of September, and then head out to Kona arriving two weeks before the race. I'm excited and looking forward to the next few months of training and racing. It's been a good season that I can be proud of so far, and I have nothing to lose moving forward."